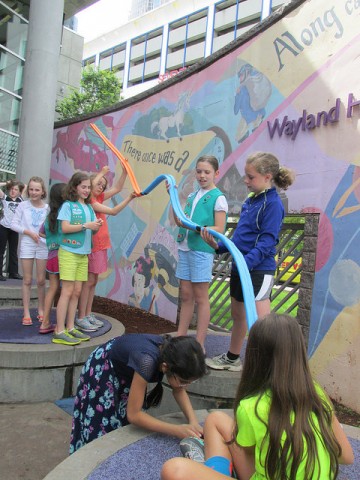 ImaginOn is a great place for children to visit during the Summer. By submitting a group visit request, you can help the young people in your group have a focused and meaningful experience. Register now! 
If you would like to visit for a self-directed, family fun activity visit our Summer Exhibit --  Storyland: A Trip Through Childhood Favorites
And lastly, Terrific Tuesdays are back again with a fun filled line-up of story tellers, magic, music and more!
Remember!  If you are bringing a group...
Summer Group Visits start daily at 11:00 a.m.
Groups are welcome to visit the exhibit after 12 p.m.
One adult chaperone is required for every 8 students.
Without a Group Visit Reservation, drop in group visitors will be admitted, space permitting. ImaginOn reserves the right to deny entry due to capacity limits and safety regulations.
The recommended visit length for groups is 90 minutes. During peak visitation, this limit will be strictly enforced to guard equal access for all interested groups. ImaginOn reserves the right to set Group Visit limits during peak seasons, especially summer. During the summer, each program location can schedule up to 4 Group Visits.