Public Art- Exterior
"The Writer's Desk" : A Tribute to Rolfe Neill
Larry Kirkland, artist
Granite, marble, concrete and gold leaf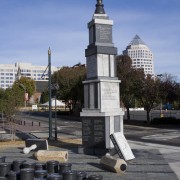 Statement of the Tribute Committee:  Rolf Neill retired in 1997 as Chariman and Publisher of the Charlotte Observer after twenty-two years of service.  During that time he was involved in nearly every achievement of the community and he is frequently referred to as the Patron Saint of the Arts.  The committee chose to honor him with an artwork that will forever inform, challenge and delight. Here are his words literally carved in stone, along with representations of the tools of the writer's trade, including Rolfe's favorite- his manual typewriter.
Click here for a full list of the quotations found on the artwork.
Public Art- Interior
"Building Blocks" 
Jim Hirschfield and Sonya Ishii, artists 
Mixed media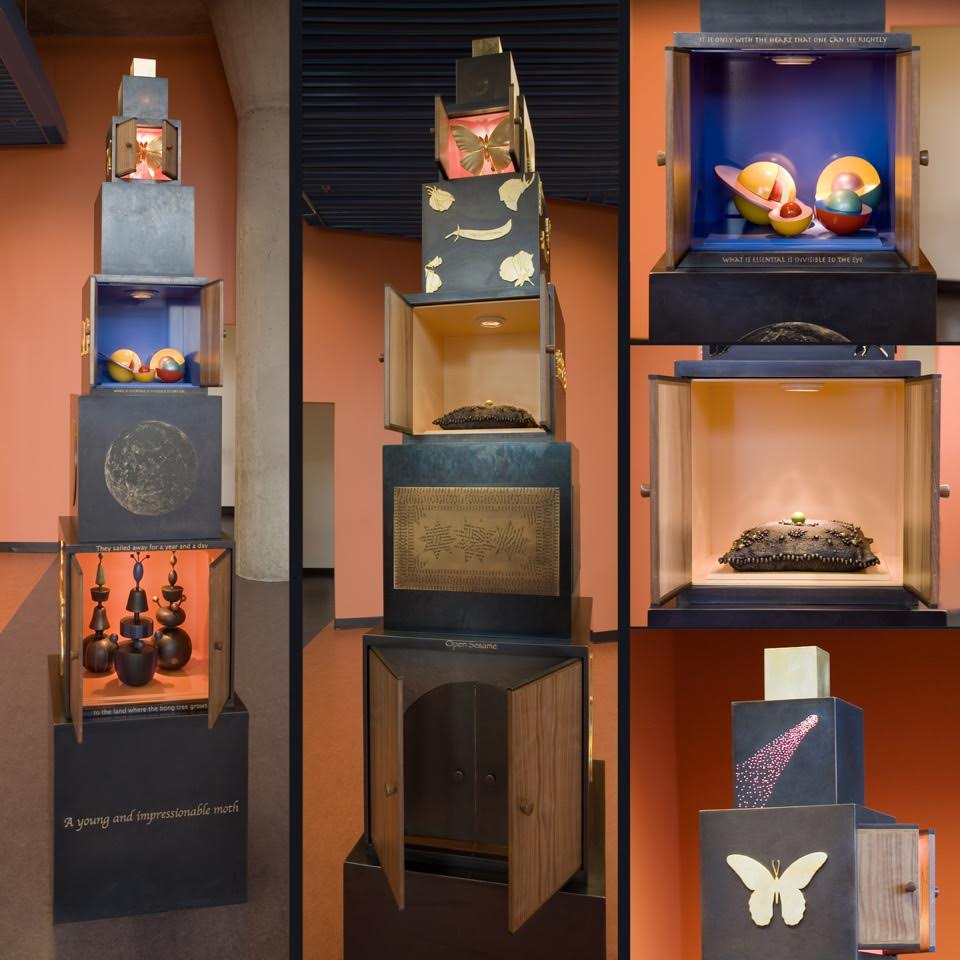 Artists' Statement:  The image of building blocks, created by the pair of towers, recalls memories of childhood and the idea of growth.  In this sculpture, we have incorporated this common childhood image with the theme of ImaginOn which is "bring stories to life." You'll discover images from such favorite tales as "The Little Prince," "The Owl and the Pussycat," and "Ali Baba and the Forty Thieves," which have been favorites for generations.  Stories continue to inspire our lives and often serve as the "building blocks" for cultural identities. 
Original Children's Book Illustrations
All throughout the ImaginOn building is artwork that was acquired prior to the opening of ImaginOn in October of 2005.  The collection highlights 10 artists, represented by 14 pieces of artwork.  There are a wide variety of styles of artwork represented including:
Mixed media collage
Oil and oil sticks
Graphite and watercolors
Linoleum block prints 
Pen and ink
Watercolor and ink
Chalk pastels
Please click here to see a full description of the illustrations, a photograph of the illustration and information about which Children's book the illustration is featured in. 
For a fun way to explore ImaginOn, check out this Scavenger Hunt or ask at the Spangler Library's Children's Desk for the picture sheet.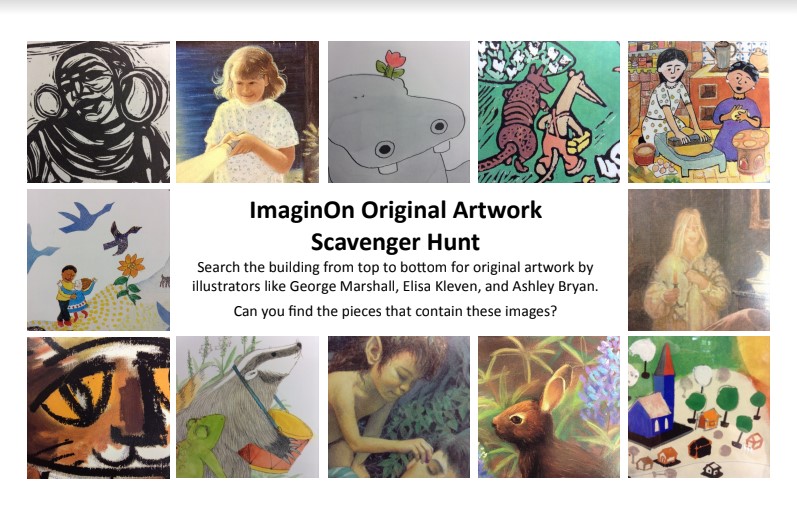 Architecture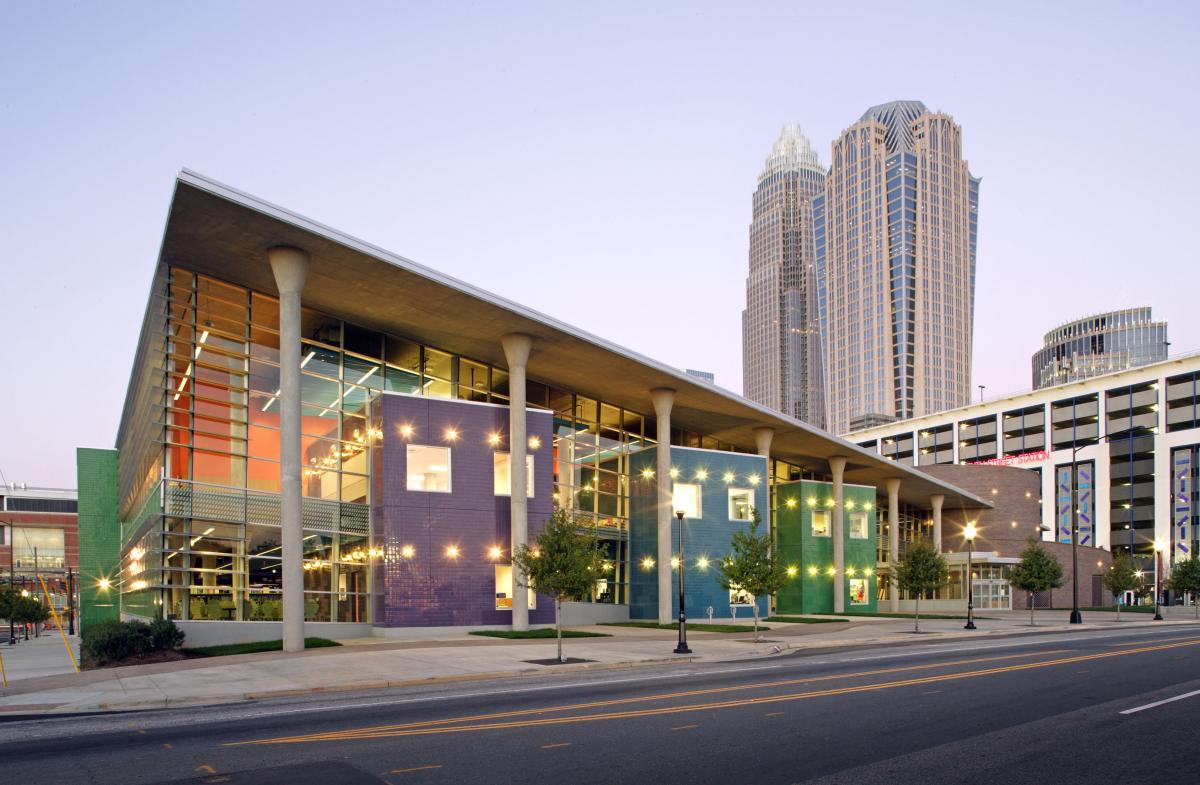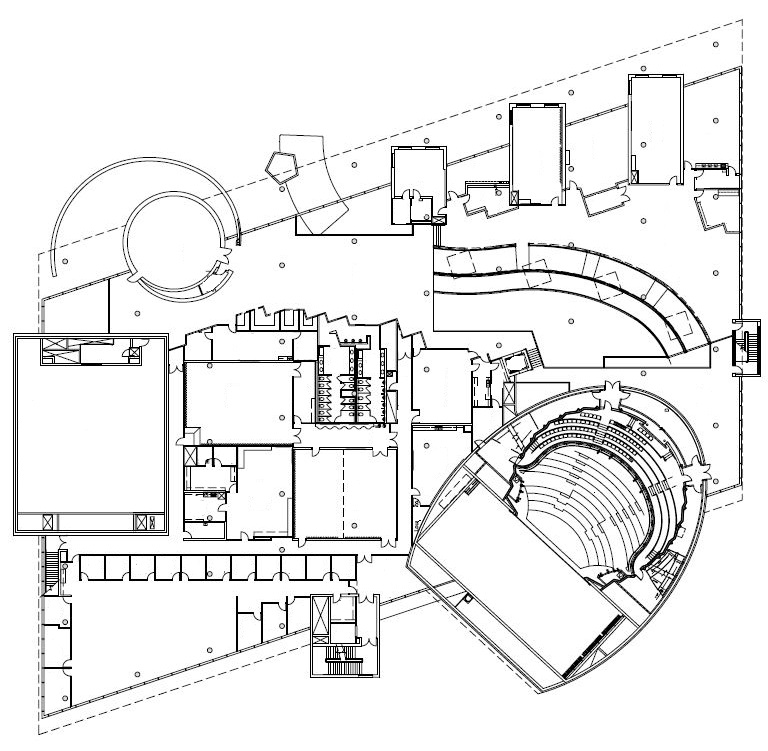 The architecture presents a story that supports the mission of ImaginOn, even in the details: To bring stories to life through extraordinary experiences that challenge, inspire and excite young minds!
Click here for a Fact Sheet about the shapes (Parallelogram, S-Curve, Pentagon, Wiggle Wall, Rectangle, Boxes and Rhombus) found in ImaginOn's building architectural details. 
Displays, Paintings and other Installations
"Liopleurodon"  and "Adam Names the Animals" 
Scott Partridge and Erich Moffitt, artists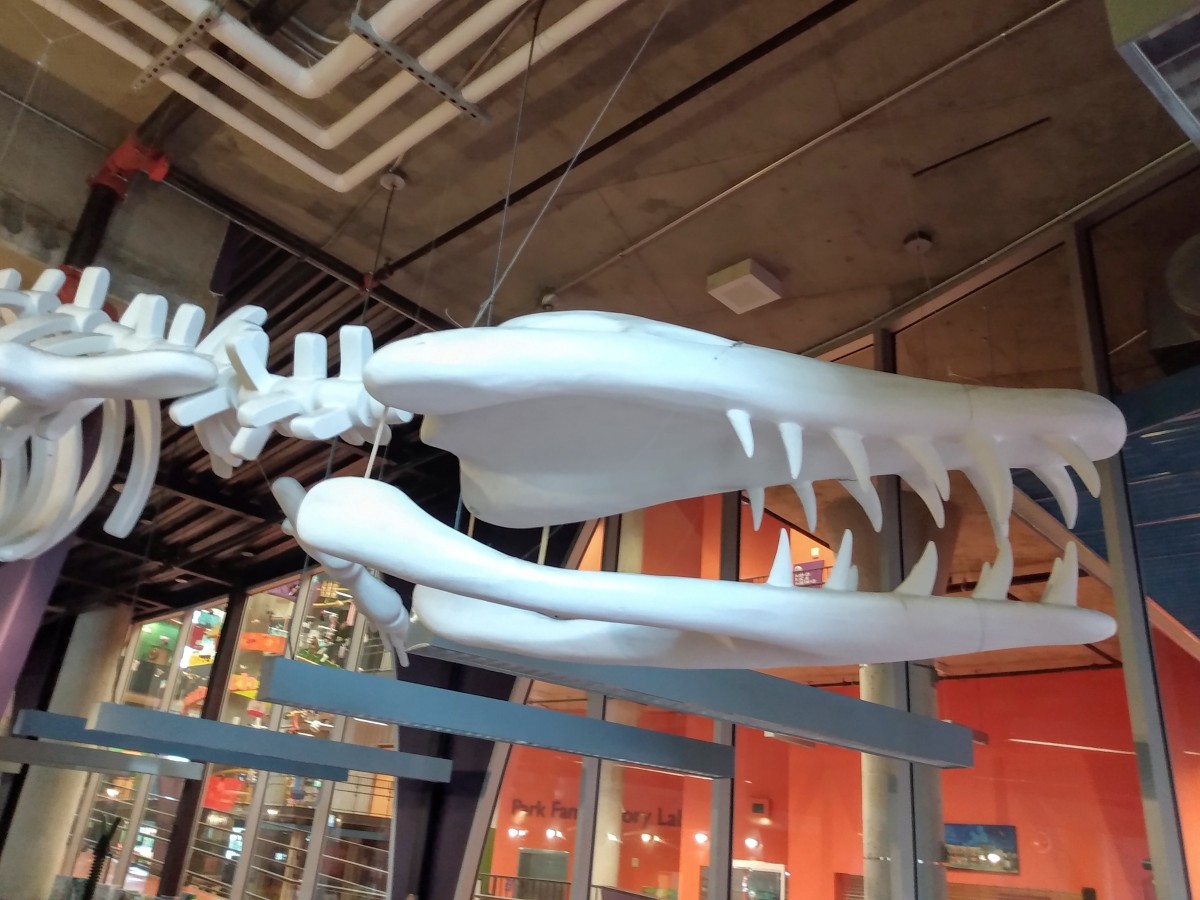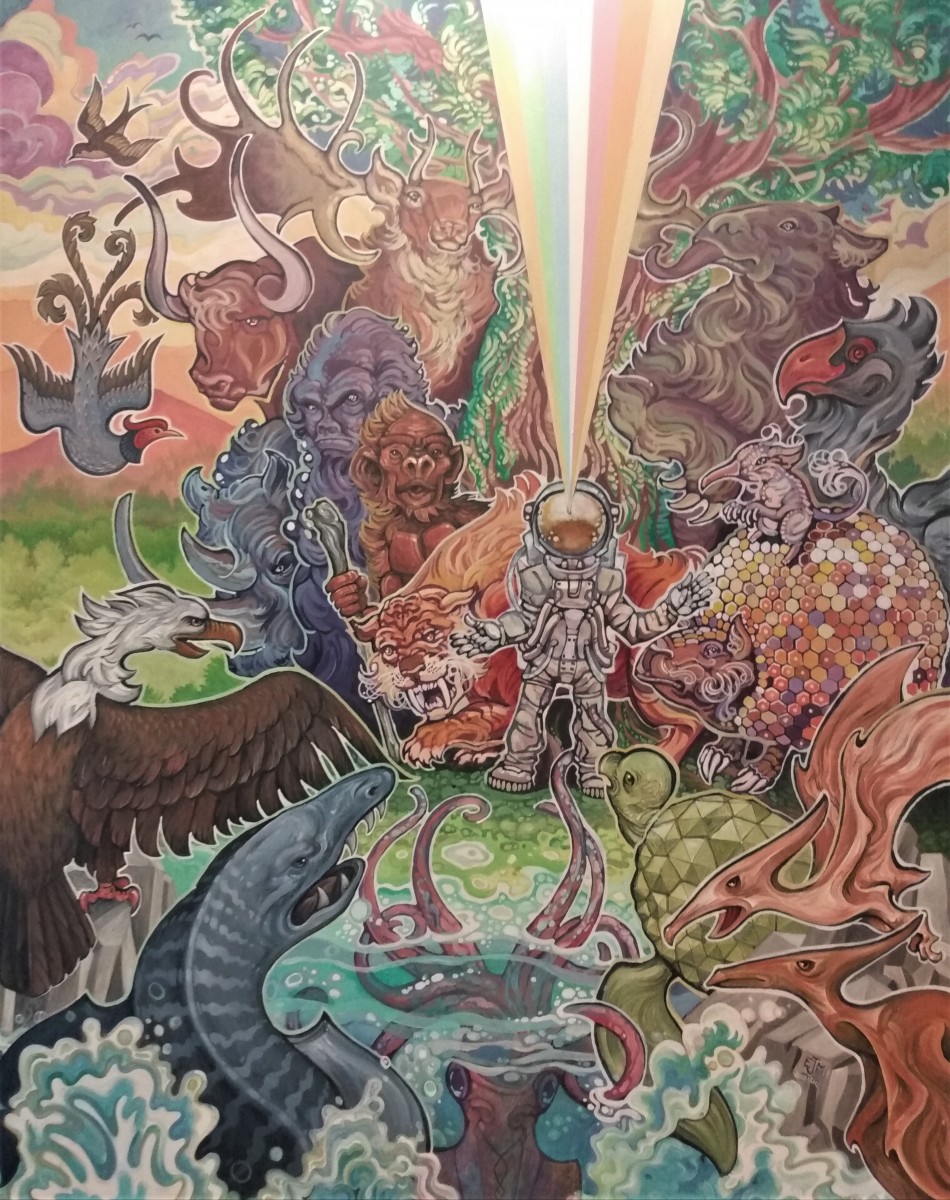 Artist's note:  The two pieces were created for a two person show at Genome Gallery (formerly in uptown Charlotte) in 2012 called "Megafauna" and themed around the concept of large prehistoric animals. 
The Liopleurodon is constructed of carved foam, wire, joint compound, and paint, and depicts an extinct marine reptile fossil. Each time it was installed it had to be assembled on site from component parts.
"Adam" is an acrylic on canvas depicting a facetious take on the creation narrative where Adam is recast as an alien arriving on Earth. 
--------------------------------------
"I Feel From Where I Stand" 
Grace H. Gutekanst, artist
Oil on canvas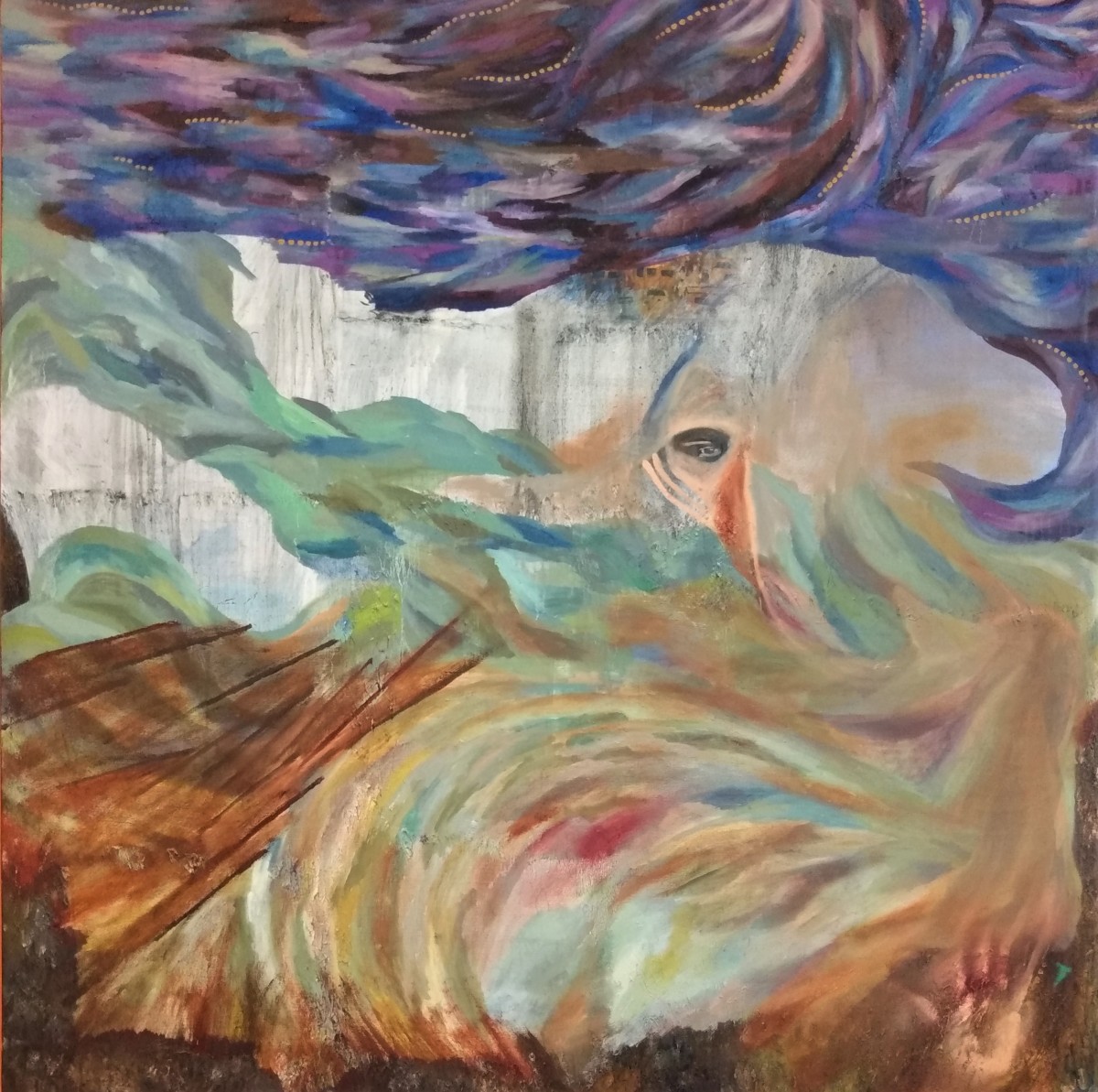 This painting was donated to ImaginOn in February of 2015.  It is one of the artists's Cerulean Seiries which is about contemplation and the individual interactions of the world through the mind.  In her words, the world can be seen as a "beautiful mess."    
Grace dedicated this painting to her father, Joe Gutekanst, a librarian.  
-----------------------------
"Backbone Alphabet" parts  "A" and "Z" 
Martin Settle artist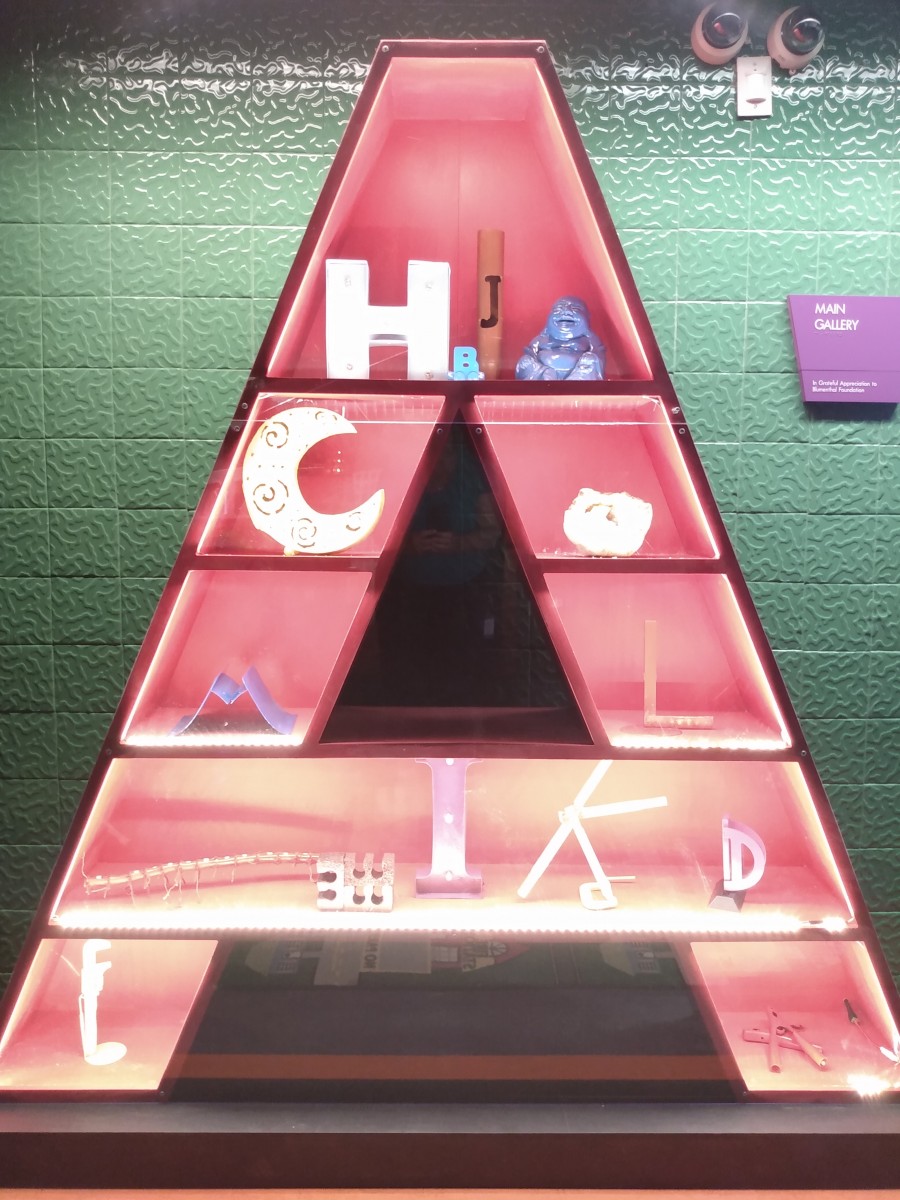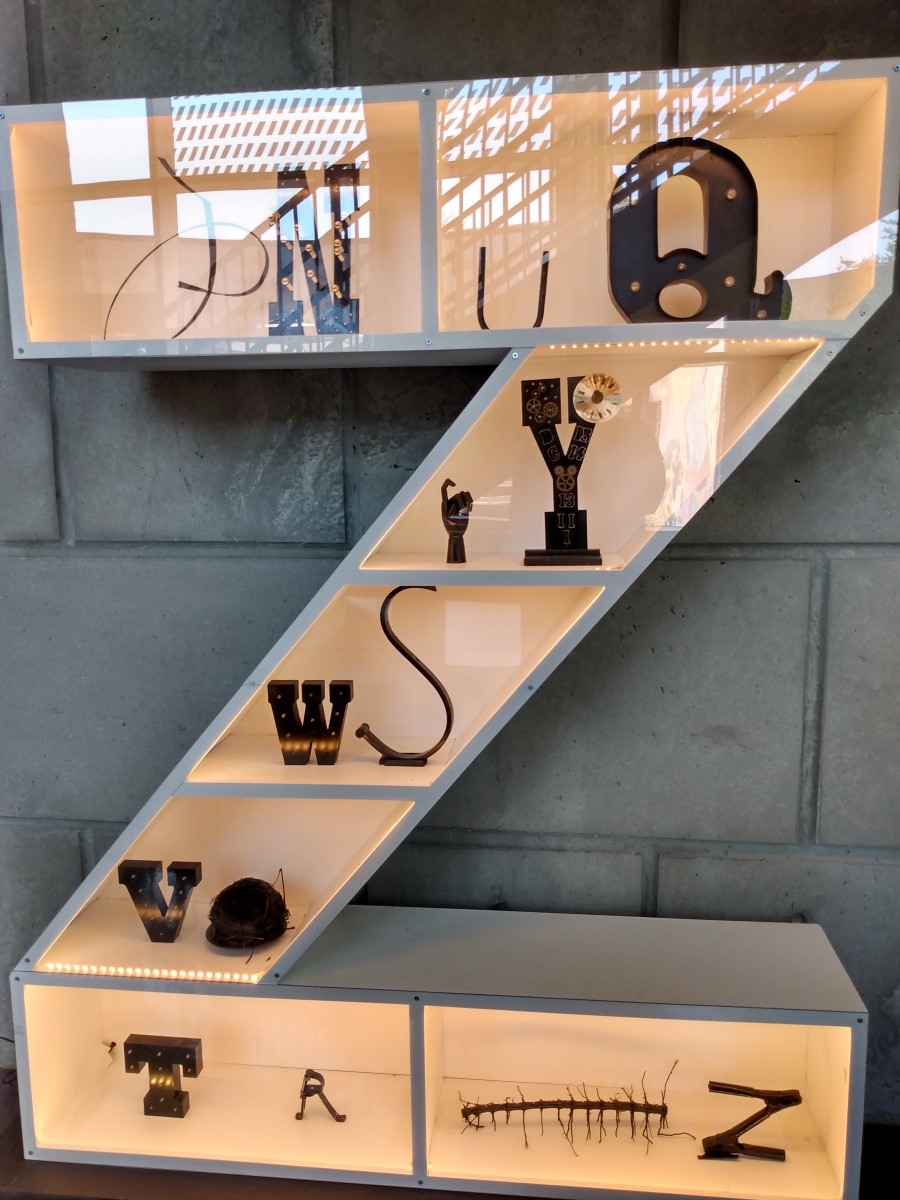 Artist's Statement: The letter pieces of art donated to ImaginOn come from a larger exhibition and book called The Backbone Alphabet. First of all, they express my deep love affair with alphabetical letters – their shapes, fonts, and graphic design; secondly, I find it wonderfully mysterious how an arbitrary shape attached to a meaningless sound can express most of what we know and imagine. From our first encounters when we are children, the alphabet increasingly supports our lives in U.S. culture. How appropriate that we, also, have 26 vertebrae to support our bodies!   - Martin Settle
---------------------------
ImaginOn
David T. French, artist
acrylic

Local artist David Thayer French, was commissioned in April of 2013 to paint this rendering of ImaginOn, the Joe & Joan Martin Center.  
David was listening to a certain audio book for inspiration when he painted the night sky.  It starts with the sentence "Call me Ishamel."  
------------------------------------
 Martin Dollhouse 
Constructed by Joe Martin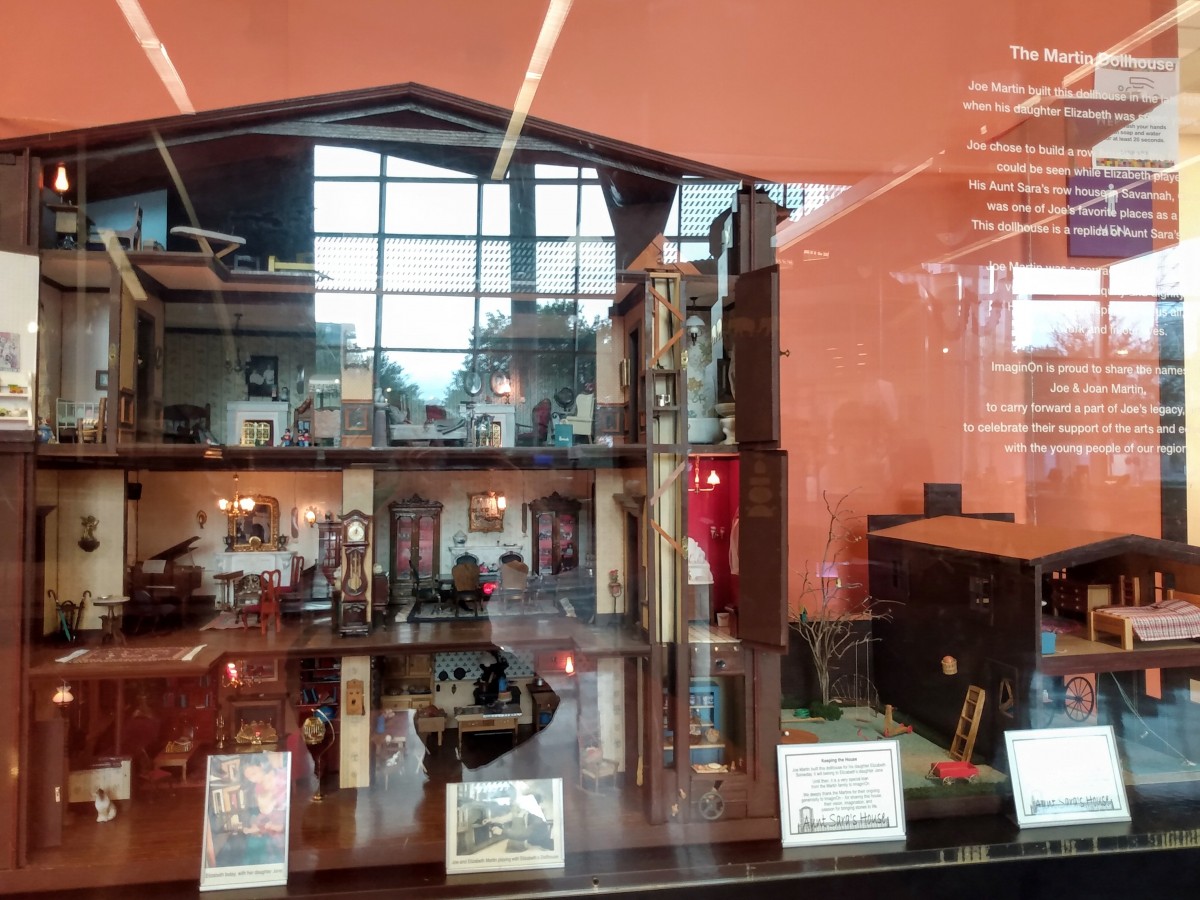 Joe Martin built this dollhouse in the late 1970's when his daughter Elizabeth was seven years old. Joe chose to build a row house so the front door could be seen while Elizabeth played.  His Aunt Sara's row house in Savannah, Georgia was one of Joe's favorite places as a boy.  This dollhouse is a replica of Aunt Sara's home.  Joe Martin was a courageous and tireless voice for justice, equity and dignity.  He remains an inspiration to us all, in our work and in our lives.
ImaginOn is proud to share the names of Joe & Joan Martin, to carry forward a part of Joe's legacy, and teo clebreate their support of hte arts and education with the young people of our region. 
------------------------------------
Rupert
Fabricated by Magda Guichard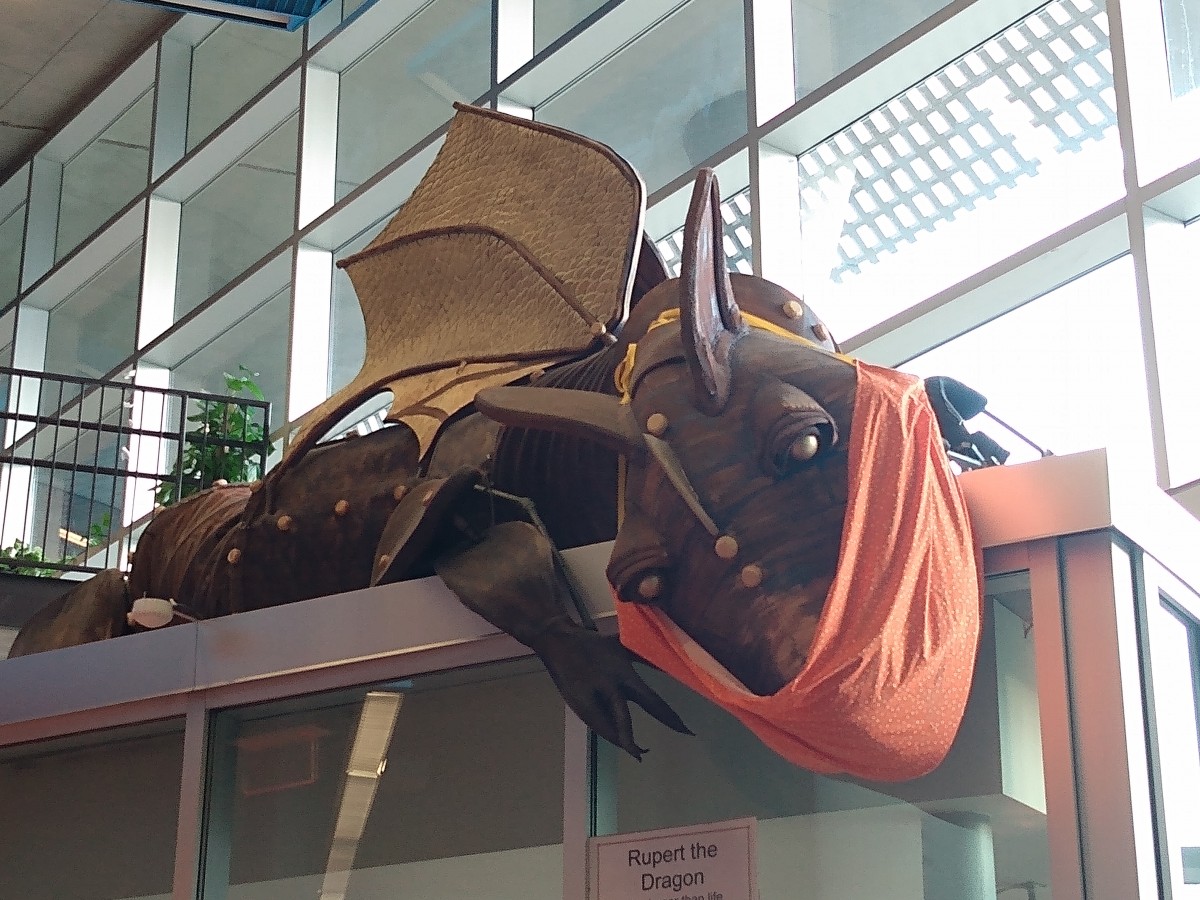 This larger than life puppet was designed and built "in-house" and was featured in Children's Theatre of Charlotte's The Reluctant Dragon.  Made of PVC pipe, foam and fabric, he weighs nearly 175 pounds and stretches to 29 feet in length!  It took four performers to operate him.  
-----------------------------------
Faces of Diversity
Edwin Gil, artist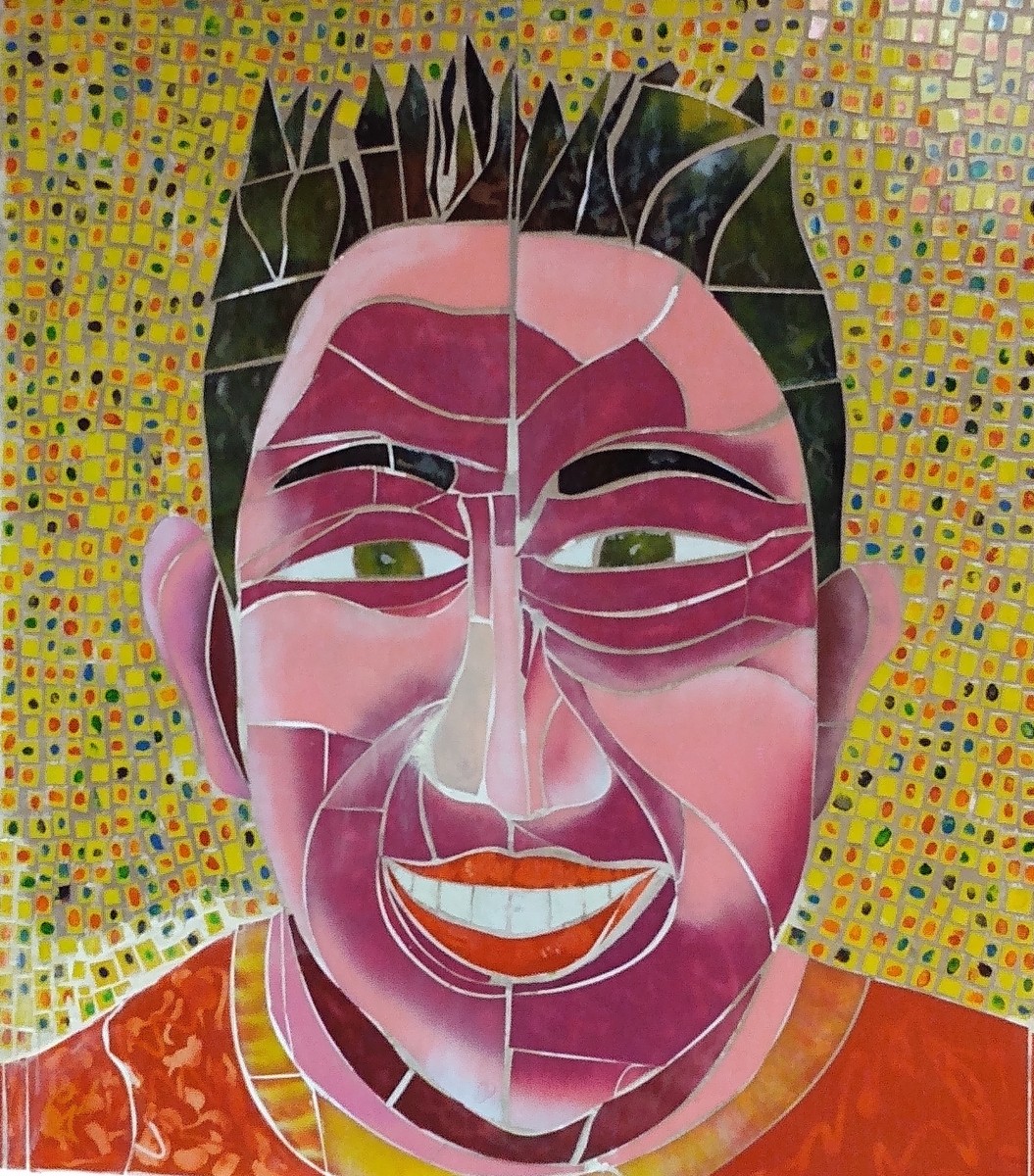 Faces of Diversity
Faces of Diversity helps promote diversity and multicultural awareness through the arts by encouraging thoughtful conversation. It reaffirms a sense of unity between cultures by demonstrating how social wellbeing is a human condition and something not specific to certain cultures.
Contemporary, conceptual artist Edwin Gil creates a large piece of artwork using recycled glass and his proprietary painting techniques featuring the face(s) of one or more people representing the group that is partnering with him. The face of those selected is created using thumbprints from the many participants at each particular event.