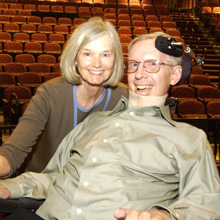 Joe and Joan Martin have been two of Charlotte 's most passionately committed and inspirational residents, individuals who personify everything ImaginOn strives to be. Through the generosity of Bank of America, their support of the arts and education in Charlotte and beyond is recognized and honored in the facility's formal name – ImaginOn: The Joe & Joan Martin Center.
Joe, a champion of racial and gender equity, enjoyed a heralded career with Bank of America, retiring in 2001. He is author of two books: Fire in the Rock, a novel about growing up in the segregated South, and On Any Given Day, his personal and touching account of living with ALS. Joe touched many lives – as a father, a mentor, a grandfather, brother, confidant, civic and church leader, and husband. Joe passed away on July 1, 2006 . He remains an inspiration to us all, in our work and in our lives.
Joan's commitment to our community has touched many lives as well, through her involvement in PTA, scouting, non-profit organizations, and learning programs in public schools. For 25 years, Joan has been a devoted leader of the Learning Center and a teacher at Christ Church kindergarten. She carries many titles: mother, educator, grandmother, tutor, leader, and wife.
ImaginOn is proud to be associated with Joe and Joan Martin, and our mission will always be to uphold their ideals of service and commitment to young people and to the community.