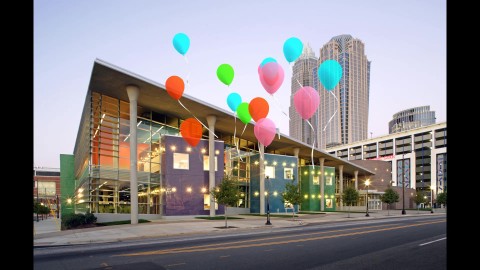 ImaginOn opened its doors sixteen years ago and we want to celebrate with you, Saturday, September 25th! 
Please join us to help celebrate ImaginOn's Anniversary AND Children's Theatre of Charlotte's opening day for My Wonderful Birthday Suit.  The show is ticketed but the outdoor fun is not!  Here's what is planned:
• Storytimes by the Spangler Library at 9:30a, 10:30a and 1:30p. (Registration required)
• Performances of The Dot*, a one-man "Trunk" show at 11:15a and 12:15p. (Registration required)
• Balloon twisters (11a-3p)
• DJ/Music (10a-3p)
• Sidewalk chalk activities (in limited numbers) (10a-2p)
• Sweet treats- while they last!
• My Wonderful Birthday Suit at 11 AM & 3 PM (Ticketed Show) 
*The Dot-This interactive trunk show tells the story of a young girl named Vashti and the teacher that inspires her to discover her creative spirit. It all begins with one little dot that turns into a journey of surprise and self-discovery. This complimentary performance is based on the book by Peter H. Reynolds, adapted for the stage by Tom Burch, and directed by Melissa Ohlman-Roberge. 
Please note: Performances are outside, with socially-distanced seating available on the grass/ground.