Monday, December 12th, 2016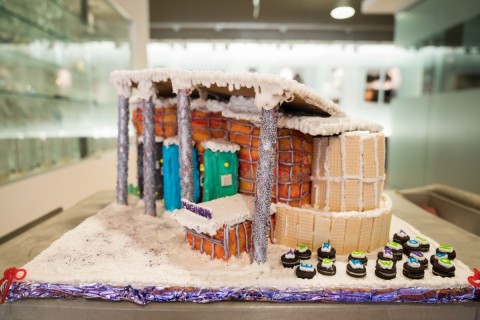 For the second annual Community School of the Arts Gingerbread House Competition, local marketing leader Wray Ward decided to create an edible ImaginOn! You can vote for ImaginOn or other gingerbread creations at their website, http://www.csarts.org/voting. 
Wray Ward shared with us why they chose ImaginOn:
"Among Charlotte's treasures is its library system, which enlightens and inspires our residents.
ImaginOn: The Joe and Joan Martin Center
, a collaborative effort between
Charlotte Mecklenburg Library
and
Children's Theatre of Charlotte
, brings literature to life through stories – in written form, on stage and in the myriad experiences enjoyed at this children's destination. The inspiration begins with ImaginOn's building design, which shines Uptown with its clean angles, glass walls and colorful architecture. With Wray Ward's deep-rootd commitment to community and creative storytelling, and with the agency's President and Chief Creative Officer Jennifer Appleby serving as Charlotte Mecklenburg Library board chair, it was an easy choice for Wray Ward to bring ImaginOn to life in a delightful and delectable Gingerbread House.  
"The building's colorful Seventh Street exterior is captured with fondant, icing and Fruit Roll Ups. Deep purple, blue and green panels establish its one-of-a-kind look, and Hershey's Cookies and Cream candy bars reflect the building's concrete rear. Shoelace licorice painted with silver icing frames the building, while cake and Sugar Wafers create the circular McColl Family Theater. For the public art tribute to longtime Charlotte Observer publisher Rolfe Neill, Mini Oreos are perfect as typewriter keys, and triangular green gumdrops form believable shrubs. Secretly ensconced on the interior, candy canes and gingerbread stacks lend structural support, while gumdrops and pretzel rods reinforce the angled roofline. The façade's overhang is kept carefully in place with peppermint sticks and edible, silver-colored mist."