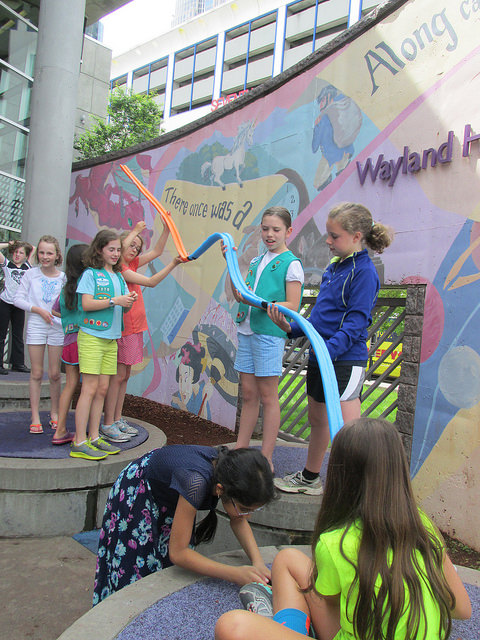 Summer Break! Live summer to the fullest!  Enjoy Summer Break with the Charlotte Mecklenburg Library. Fill your summer with adventure and track your activities online for a chance to win prizes.  Sign up online or at any service desk at ImaginOn.
 June 1st to August 10th-  Pre-registration begins May 20th
Group Visits  ImaginOn is a great place for the children in your group to visit during the Summer. We offer visits for students from Pre-School to High School.  All visits will help the young people in your group have a focused and meaningful experience.   (From the Calendar page, click on an event description to access registration).
June 10th to August 9th – Sign-ups available starting May 1st.
Terrific Tuesdays  Charlotte Mecklenburg Library and Children's Theatre of Charlotte join together to present a summer full of fun.  Join us in the Wells Fargo Playhouse at ImaginOn on Tuesday afternoons for featured performances including balloon twisters, magicians, puppeteers, Birds of Prey, music, storytelling and more!  Events are FREE but tickets are required, available through CTC's box office.  Most performances recommended for ages 3 and above.
June 18th to August 6th – First performance's tickets are available starting June 11th.
Summer Exhibit- The Adventures of MR. POTATO HEAD®, Quest & Safari   
In 2016, ImaginOn was thrilled to host The Adventures of MR. POTATO HEAD®, Sea & Space.  This summer we are bringing back our favorite Spud, featuring all new adventures.  MR. POTATO HEAD® will lead the way on a jungle safari and on an archaeological dig with amazingly fun ways to help children build fundamental skills, welcome new experiences with confidence, curiosity and humor, and to think about all they can be and do.  Recommended for ages 3- 8 with their caregivers.  Click here for detailed info. 
Open May 25thto September 8th
Children's Theatre of Charlotte Summer Camps  
Children's Theatre of Charlotte's award-winning summer camps offer experiences for students ages 3 to 18 in a fun, interactive environment. Professional teaching artists lead campers in acting, singing, dancing, and art activities.  Prices vary. 
First week of camp starts June 3rd- Registration is available now.
Like to tinker? Stop by ImaginOn's Messy Makerspace this summer on the second floor. It is a flexible learning environment that changes day to day.  Drop by often to experience our full range of equipment, as not everything may be available each session.  Equipment that may be available include tablets for design work, a vinyl cutter, a virtual reality experience, sewing machines, 3D printers, and more!  Check our calendar for drop-in and one-on-one learning experience opportunities.
Summer hours- (June 10-August 23) are M-Th 2p-5p, Sat 9a-12p and Fridays by appointment only. 
ImagiCon  ImagiCon is a library festival that celebrates culture surrounding comic books, graphic novels, manga, anime, fandoms, and gaming. The program is for ages 0-18 and their families, and its aim is to provide a safe space for those interested to explore their interests, inspire creativity, and learn about local industry careers and artistry opportunities.
July 20th – Registration is not required but vendors must submit an application by July 1st.