Wednesday, August 16th, 2017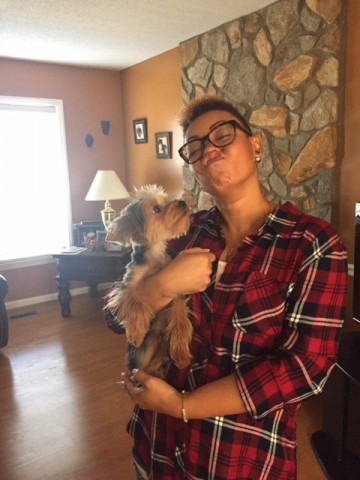 WHO'S WHO AT IMAGINON
Ever wondered who the lucky people are that get to work at ImaginOn every day? Welcome to our Who's Who at ImaginOn column, where we'll feature people who work in all corners of this magical building, from the scene shop and costume shop of the Children's Theatre of Charlotte to the circulation desk, the Spangler Library and Teen Loft of the Charlotte Mecklenburg Library. Say hello next time you see us in the building!
What is your name?
Arlethia Friday Hailstock. I was born Arlethia DeLynn Friday but my friends and family call me by my nickname, "Fluffy."
What is your position/company/role at ImaginOn?
School Performance Sales Coordinator (aka Teacher Wrangler) for the Children's Theatre of Charlotte
What does that actually mean you do every day?
I save teachers' sanity by helping them plan field trips to CTC for their students.
If I were walking around the building, how would I recognize you?
By my Drew Carey glasses and red-ish mohawk.
What is the absolute coolest or weirdest or most fun part about your job at ImaginOn working for the Children's Theatre of Charlotte?
By far the coolest part is hearing kids laugh, seeing them cry or ooh and aah over an amazing story that they are watching unfold on stage.
You know that game "Two Truths and a Lie," where you give three facts, and two of them are true and one is false? What are two truths and a lie about you? (*Scroll to the end for the false one!)
 1. I've been bitten by a shark.
2. I've been bitten by a dolphin.
3. I won $1900 on a TV game show.
What is your favorite book and your favorite play?
My absolute favorite book is To Kill a Mockingbird by Harper Lee. My favorite play is A Raisin in the Sun. I also really love Godspell and Wicked and Dreamgirls. I THINK my favorite play ever produced at CTC is The Miraculous Journey of Edward Tulane. Too much? Okay I'll stop there.
What did you do before you came to ImaginOn?
I worked for five years as the Non-profit Coordinator at Bank of America Stadium. Go Panthers!
If you could live in any imaginary world, what would it be and why?
First of all, you could blink and automatically be at the beach. Also, in my imaginary world everyone is kind to one another, no one is ever sick and every child walks in the truth that they are absolutely amazing in their very own way. Oh – and you could eat chili cheese fries and ice cream every day and still feel great! Why? Dude, why not?!
*The falsehood: I have never been bitten by a shark.