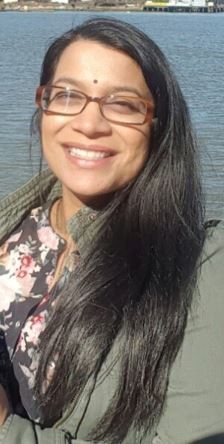 Ever wondered who the lucky people are that get to work at ImaginOn every day? Welcome to our Who's Who at ImaginOn column, where we'll feature people who work in all corners of this magical building, from the scene shop and costume shop of the Children's Theatre of Charlotte to the circulation desk, the Spangler Library and Teen Loft of the Charlotte Mecklenburg Library. Say hello next time you see us in the building!
What is your name?
Amrita S. Patel
What is your position/company/role at ImaginOn?
I work in the Outreach Department of the Charlotte Mecklenburg Library, as a Library Program Coordinator.
What does that actually mean you do every day?
The Outreach Department serves individuals who do not have traditional access to the library. Typically, I provide library outreach services to large-scale community events, rehabilitation centers, nursing homes, adult day programs for adults with Alzheimer's or Dementia, home-daycares for children, or elementary schools. The library services I coordinate come in the form of storytime for children, or for adults I tend to lead book clubs, teach technology programs, or engage in discussions that relate to a literacy activity. When I'm not out in the community, I serve on a team that coordinates professional development opportunities for staff (i.e. the Outreach Advisory Team is developing the Outreach Retreat for staff members system-wide), as well as serve on the Summer Break team.  
If I were walking around the building, how would I recognize you?
I'm short, have long dark brown hair, tan skin, and wear a bindi (a maroon colored dot on my forehead) which in my culture signifies that I'm married.
What is the absolute coolest or weirdest or most fun part about your job at ImaginOn working for the Charlotte Mecklenburg Library?
Coolest part of my job is the people I serve! I get a chance to develop relationships with people from all backgrounds and walks of life.
You know that game "Two Truths and a Lie," where you give three facts, and two of them are true and one is false? What are two truths and a lie about you? (*Scroll to the end for the false one!)
1. I grew up on a barrier island.
2. I proposed to my husband with a pair of Jordans.
3. I speak Spanish.
What is your favorite play?
One Man, Two Guvnors
What did you do before you came to ImaginOn?
Full-time college student who worked at Barnes & Noble part-time.
If you could live in any imaginary world, what would it be and why?
Mushroom Kingdom, because I know it like the back of my hand.  
*The falsehood: I don't speak Spanish.