Tuesday, January 19th, 2021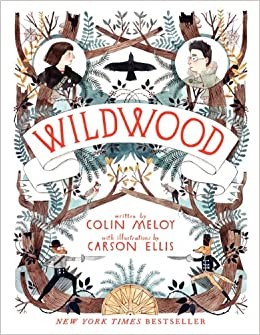 Wildwood Book Review
Author: Colin Meloy
Book Borrowed From North Carolina Kids Digital Library
Reviewed by Reid B
               Summary: The Impassable Wilderness had been there for as long as anybody could remember, yet nobody has ever gone to explore it. That all changed when Prue's (The protagonist) little brother was kidnapped by crows one night and taken into the impassable wilderness. Together with her friend, Conner, Prue sets off into the Impassable Wilderness and discovers a civilization called Wildwood. Together with Conner, Prue sets off to find her brother but as the plot unravels, she discovers that Wildwood is not what it seems.
               Wildwood is a phenomenal book with fantastic writing and great illustrations. I really enjoyed the book, the characters are great, and the story is well told. Though the book is long, it does not seem to drag on. The book never focuses on one thing for too long and has lots of plot twists and action to keep the reader reading. The illustrations are great and add to the story, even if there are not a lot of them. The protagonists Conner and Prue both have likable traits, and the villain is complex and has a backstory and motives. The plot is interesting, and the pacing is good.  The only problems that I had with the book is that the kids in the book make some strange decisions. For example, in the beginning Prue decides to wait until morning to chase after her younger brother and then lies about it to her parents. But these are just minor nitpicks that did not really affect my enjoyment of the book. The story wraps up nicely while still leaving room for the sequel. This book is perfect for readers who love longer books, and there are three books in the series. I would recommend this to readers who love fantasy books, though it may be difficult for younger kids.
Pros
Great writing and characters
Great illustrations
Great plot
Good pacing
Cons
May feel long for younger readers.
Sometimes characters make interesting choices.
Click here to check out "Wildwood"
This book review was submitted via Virtual Community Service Program