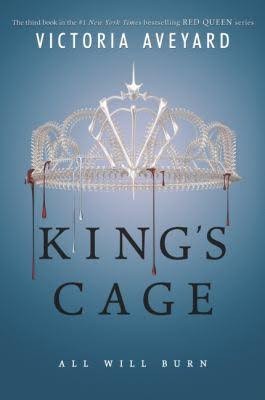 Book Review by Kevin N. 
Mare Barrow, the main character, has to live at the mercy of the king, Maven. He has an endless love for her and is terrible at showing his love. Keeping her captured is the only thing keeping him going. His brother, Cal, however is doing everything and anything outside of the palace to get Mare back. King's Cage is a solid 4 stars. It's a bit slow compared to the other books seeing as it's a continuation of Mare's capture and the whole book is Mare being stuck with Maven and his endeavors. There's multiple points of views now though, which keeps the book interesting since you can see what's going out outside of Mare's capture. You can also begin to feel the passion both Calore brothers have for Mare in this book- it shows how far both brothers would go just to have her by their sides. I feel like this book is also good at showing Mare's messed up mind- how she can't decide which way to go but she has one thing in mind and it's to save the people like her. She's not surrounded and obsessed over love like the brothers are, she keeps it in mind. But she's independent and she'll do her best to save those that need it. If you read this book keep in mind it's the third in the whole series so don't forget to start off with the other books first or you'll be lost. Overall, this book is good and worth the read in the series.
Click here to check out "Kings Cage"
This book review was submitted via Virtual Community Service Program