Thursday, October 22nd, 2020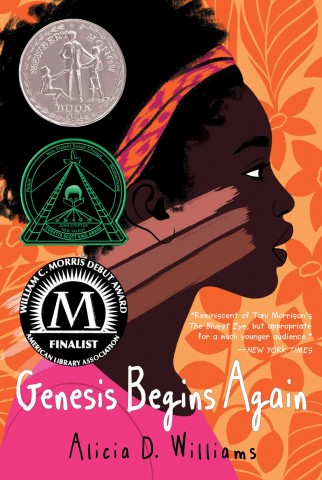 Book Review by Jordan J. (a Student at Piedmont Middle School)
Rating: 5/5 
Meet Genesis, a girl who can't stand the color of her skin. She's been called all the mean names, Charcoal, Gorilla, and Eggplant. It seems like all of her problems come from having dark skin. Her dad has dark skin too and he has a drinking problem. Her family has been evicted from every house she's lived in. It would all just be easier to have lighter skin, like her mother. All her troubles would go away. When her family moves to Farmington Acre, Genesis is finally in the suburban house she has dreamed of. The rent is high and Genesis isn't sure that her dad can stay on top of it all. When Genesis starts going to the neighborhood school, she discovers there might be something good when it comes to being herself, dark skin and all.
I rate this book a 5 out of 5. It was so good that I read it twice.This story teaches you how to find all the great things inside of you and love yourself. Every kid can relate to Genesis when she feels left out and alone. When you read Genesis Begins Again, you will find yourself not wanting to put it down, and enjoying every single page until the end. Even though this book is not full of action, Genesis's school and family drama make up for it.  This book will make you sad, happy, and even laugh out loud. I have a personal copy of this book but you can find it in the library, on ebook, and Audiobook at the Charlotte Mecklenburg School site. Happy Reading!
Click here to check out "Genesis Begins Again"
This book review was submitted via Virtual Service Hours Program