Friday, December 18th, 2020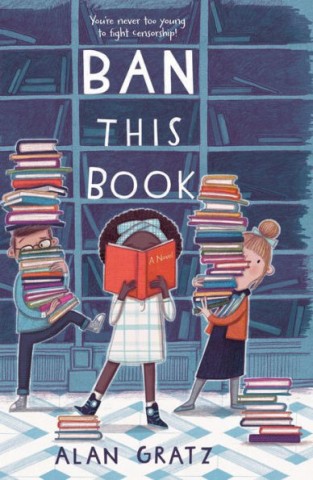 Book Review by Jordan J. (a student at Piedmont Middle School)
Rating: 5/5
"It all started the day my favorite book went missing from the library". These are the words of Amy Anne, and how the most ultimate Battle of Books began. It isn't fair that Mrs.Spencer doesn't like her favorite book and banned it along with so many other books that are perfectly fine for school. Books like Captain Underpants, Egypt Game, Bridge to Terabithia, Harriet the Spy, and Amy Anne's favorite, Mixed-up Files of Mrs.Basil E. So when Amy starts her own banned book library the battle is just beginning. As Mrs.Spencer keeps banning books, the more the banned library grows. The word spreads out and soon everyone wants to read a banned book and there is no telling who will win this ultimate book battle.
I like this book because it encourages kids to challenge bad ideas or decisions that other people make and stand up for what they believe in. In this case for Amy Anne, it starting a banned book library. This is a great book to read starting in 3rd grade. Through the book, Amy Anne learns how to speak out for herself and others. I like this book because when Amy Anne didn't take no as an answer even when all the odds are against her. Most people can relate to Amy Anne's sibling responsibilities. This book is perfect for everyone, especially if you are a booklover. I rate this book a 5 out of 5. You can find Ban this Book by Alan Gratz at the Charlotte Mecklenburg public library and on ebook at their website. Happy Readings!
Click here to check out "Ban This Book"
This book review was submitted via Virtual Community Service Program