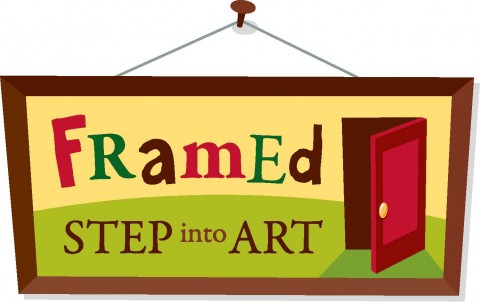 Step inside the framework of famous paintings and experience art like never before in "Framed: Step into Art," opening at ImaginOn: The Joe and Joan Martin Center on May 20 through Sept. 3.
Children and adults can enjoy a robust noontime meal in Grant Wood's "Dinner for Threshers," climb into a tent and explore camping gear in John Singer Sargent's "Camp at Lake O'Hara," add corn husks to the flower tower in Diego Rivera's "Corn Festival" and enter Clementine Hunter's "Big Chicken" to get behind the reins of a giant rooster.
Visitors can also explore a small collection of Mona Lisa prints featuring the original and famous parodies, then step behind a cutout version and replace Mona Lisa's face with their own.
The 1,500-square-foot display is designed to promote art appreciation and connection and present opportunities to visualize thinking strategies among children ages 3 to 10. 
Admission to the exhibit is free. The exhibit is open during ImaginOn building hours: Monday-Thursday from 9 a.m. to 8 p.m., and Friday-Saturday from 9 a.m. until 5 p.m. (ImaginOn is closed on Sundays from Memorial Day to Labor Day for summer hours.) For more information, call 704-416-4600 or visit imaginon.org.
Information for Groups:
Can I bring a group? Yes! Groups are welcome to visit "Framed: Step into Art" exhibit after 12 p.m., Monday-Saturday. Reservations are neither required nor accepted and entry into the "Framed: Step into Art" exhibit is always on a first-come, first-served basis. However, if you wish to combine your visit to the exhibit with any other building-wide activity, a group visit booking is required. You can make a request at imaginon.org/calendar/group-visits.
Can a group make a reservation to visit the "Framed: Step into Art" exhibit? No, all visits to the exhibit happen on a first-come, first-served basis. Families are encouraged to take advantage of Family Time, if your schedule allows. (See below for details.)
Is there a time when the exhibit is open just for families? Yes! Family Time for the "Framed: Step into Art" exhibit is every Monday through Saturday from 9 a.m.-12 p.m. During this time, the exhibit is open just for children with their parents/caregivers. (Limit 5 children per adult.)
Can children visit the exhibit by themselves? Children under age 8 must be always with a caregiver. Caregivers should be at least 12 years old and mature enough to follow ImaginOn rules and guidelines. Chaperones are required for all groups visiting ImaginOn and the exhibit.
What if the exhibit is full when I arrive? Because visitor safety is our top priority, admittance into the exhibit is limited. This allows guests the ability to fully explore the exhibit at their own pace. If the exhibit is "full," we have a queuing area where visitors can wait to enter the exhibit on a first-come, first-served basis. We have suggested activities to pass the time while you are in line.
The summer exhibit at ImaginOn is funded through the Library's Humanities Endowment Fund, with support from the National Endowment for the Humanities.