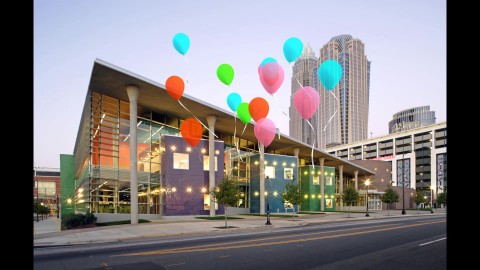 ImaginOn: Retrospective
ImaginOn will celebrate its 15th Anniversary (or its Birthday as we call it), this month. October 8th to be exact. I can't help but reflect on how lucky I've been to be working here for more than half that time…
I started at ImaginOn in September of 2011.  But my story doesn't start then.  It really begins sometime in 2004. My friend and I were driving into Uptown Charlotte, most likely to attend a show at the Blumenthal Performing Arts Center, when we passed near the intersection of 7th and Brevard.  I saw an oddly shaped building under construction (which I eventually learned was the back of the McColl Family Theatre, what is affectionally referred to as the "Toaster" by some staff).  When I puzzled out loud "what kind of building is that?" my friend said "Oh, I think I heard about that.  It's like a children's theatre and library all in one."  My response?  "Well, that's just the coolest thing I've ever heard! And it makes sense, right?!"  Of COURSE it made sense.  Plays come from books.  Books come from libraries.  And all right there together in one space.  And just for kids! Wow.
Well, that "Wow" stayed with me for years. After I decided right there and then that ImaginOn is where I wanted to work, I started on a long-term plan.  I already had an undergraduate degree in Theatre but I went back to receive a Master's degree in Library and Information Studies, started volunteering at the Main Library shelving books and began methodically checking the job postings for THE job.   And in July of 2011, there it was "Planning and Partnership Coordinator" at ImaginOn.   Bingo. 
My first two "bosses" were legendary in my eyes.  Bruce LaRowe was the Children's Theatre of Charlotte Executive Director and Lois Kilkka was Library Manager.  While Bruce (along with Bob Cannon, former Executive Director of the Charlotte Mecklenburg Library) was the one of the innovative minds behind the original concept of a shared programming space for young people, it was Bruce and Lois together that actually had "boots on the ground" managing the day-to-day operations and programs at ImaginOn. I remember thinking that they were both so lucky and so cool to have that kind of responsibility! And now I did too!   
I just passed my 9th work anniversary here and this job has lived up to all my expectations.  It's not just the building (which I still find delightful), or the partnership, (which I am still awed by) but the people who work here and the community that supports us that I am absolutely and utterly in love with. They make us who we are and why we do what we do.  Over the years I have seen Children's Theatre of Charlotte productions that have made me laugh and made me cry (notably The Miraculous Journey of Edward Tulane). I have witnessed exceptional Library programs and have seen staff don capes and masks, not because they are super-heroes (even though they are) but because it always begins with "Wouldn't it be fun for the kids if…?"  And I NEVER get tired of having a new visitor come in and say "Wow, this is a library?!?" (immediately before I launch into my spiel about how we are also a Theatre and ImaginOn is the name of the building, the name of the partnership and just one of the branches in the Charlotte Mecklenburg Library system…).
There have been a lot of highlights in the past fifteen years and here are some of my personal favorites in no particular order; my second day of work when I turned the corner and "Thing 2" barreled into me, giggled and ran away, hosting the Daily Show with Jon Stewart during the DNC,  hosting a Town Hall with President Obama, our first summer exhibit "The Amazing Castle,"  the last "Mr. Potato Head" summer exhibit with nearly 57,000 visitors in a 14 week period, our all-staff Loading Dock cook-out and corn-hole tournaments, the chaos that is Santa's Bag, the stunning Secret Garden Page Stage painting, getting Rupert the dragon on top of the entryway, Kate DiCamillo visits, the partnership with Ed Bounds and Dakota- his dinosaur, our first EpicFest in 2015, our first Super Saturday series (also in 2015!), watching a Guinness world record being set during a Terrific Tuesday performance, anytime a character from a CTC performance shows up at Family Storytime but especially when author Mike Artell interrupted a Storytime to take and read his own book Petite Rouge: a Cajun Red Riding Hood, driving the CTC van in the 2018 Thanksgiving Day parade, hanging a 50 foot whale kite in the StoryLab, building an 8 foot Christmas tree completely out of books. As Casey, my fellow Shared Staff, likes to say, "Good times!"
This year was looking to be a great one too.  We had BIG plans around celebrating ImaginOn's 15th Birthday in mid-October with a line-up of our favorite performers in the Super-est Saturday of them all.  The Theatre was planning an outstanding '20-'21 season with one of my favorite Broadway shows ever and the Library Teen and Children's staffs were planning to do what they do best- world class programming for youth.  
Obviously, we've had to make some adjustments in the past months, but long-term, it's not a matter of if ImaginOn will come back, brighter and stronger and better-than-ever but when.  In the meantime, we will keep on, keeping on. I look forward to when we are back to capacity and the building is filled with families and visitors, either for the first or five-hundredth time.  
Happy 15th Birthday, ImaginOn!
Maryann O'Keeffe
Planning and Partnership Coordinator
ImaginOn: The Joe & Joan Martin Center
 "The only way to face the future is to fly straight into it on the wings of hope....hope is the energy of the soul. Hope is the power of tomorrow."
Lewis B. Smedes